Quality packaging for the semiconductor industry
Transport boxes for the semiconductor industry
Package and transport solutions for the semiconductor industry, requires special care. Fawic provides strong, durable and lightweight boxes to meet those demands. Our modular boxes provide excellent protection against external influences such as dust and moist. We develop solutions for hi-tech and sensitive equipment and help you to design a cost-effective solution for the optimum packaging of your product.
Semi Conductor Box
Custom-made transport boxes for Semi-Conductor Industry
Extra Large Transport Box
Example of extra large transport box with artwork & signing custom-made for the semi-conductor industry.
The ultimate flight case: strong, lightweight and available in any size. This box is ideal for the semiconductor industry.
Our FB20 locking system allows for a fast construction and disassembly. The pallet is easy to adapt to your needs.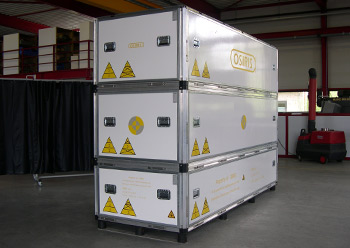 Unique and strong, FB45 locking system facilitates easy assembly and quick dismantling. This sturdy version is lighter than other packaging solutions such as wooden crates and can withstand extreme conditions.
Transport solutions for Semi conductor industry
At Fawic we manufacture transport solutions in any format for almost every imaginable application. We design each case inside out. Find out what we can do for you: please contact our experts for a free consultation.