We realize your concept
You can order matching transport tools, containers and mobile-spaces with your Fawic boxes. We already have many pre-existing solutions available, but are happy to develop new concepts to suit your needs.
About Fawic
Everything is possible
Together we find the best solutions
" Hitec Power Protection
The team or Fawic Packaging Systems was very professional in the engineering, production, project management and installing the mobile climate room in the test field or Hitec Power Protection. View recommendation of Hitec Power Protection
Albert Bal
Manager Testfield, Hitec Power Protection
We can provide a buffered aluminium frame for your boxes to protect your product even better against shocks and vibration.
In addition to standard designs and sizes you have the opportunity to develop your own concept. Aluminium containers and pallets are custom manufactured.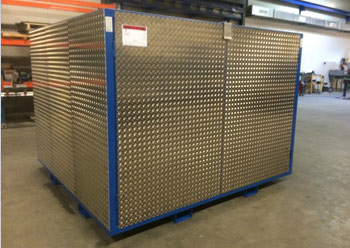 Our steel containers for the transport and storage of heavy goods are fitted with a fixation base, so goods remain in place during transit.

At Fawic we manufacture transport boxes in any format for almost every imaginable application. We design each case inside out. Find out what we can do for you: please contact our experts for a free consultation.