Withstands heavy loads
Thermodyne trolleys are specially developed boxes made of polyethylene (PE-HD) with built-in telescopic handle and wheels. The boxes are versatile, stable, and resistant to heavy loads. The wheels we use run light and have a long life. Trolleys of equal sizes are stackable. In addition to our trolleys, telescopic handles and wheels can be fitted to most of our standard and system cases.
Foam
Valuable products require careful handling. In order to provide maximum protection, we developed and produced customized foam pads and supports made of plastic or lightweight metal. This makes transport damage a thing of the past. We can advise on foam solutions taking your requirements and the fragility of your products in account. We are able to test the best packaging solution for your product in our own laboratory. On our 3D CAD and CAM machines we produce some pieces to large series in a short time.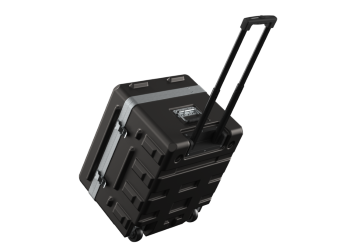 Aviation
Lufthansa uses our boxes for storage and transportation of their aircraft's vulnerable spare-parts.
Supports
Sensitive products, which may be supported only in certain places, require special demands on packaging. Our plastic or aluminium supports are produced in-house.
Thermodyne boxes are now also standard available in orange. Other standard colours: black, anthracite, silver-grey, red, yellow, blue, white and armygreen.
Interior Dimensions trolley:
700x580x275 mm
Cover height:
150 mm
Price a piece excluding interior:
€ 302.80 excl. VAT
For larger quantities price on request.
In our range different handles, levers, locks and hinges are possible. In addition, we can add your personalised inscription. In the folder you will find all options available.
Because we customize your case in our workshop: taking into account the shape and functionality you require. We are able to ensure a fast delivery.

At Fawic we have manufactured transport boxes in any format for almost every imaginable application. We design each case inside out. Find out what we can do for you: please contact our experts for a free consultation.