Quality packaging for machinery & spare parts
Transport of valuable machinery and spare parts
Machines are increasingly costly investments. Transport and storage of complex, sensitive and valuable equipment therefore demands suitable transport packaging. Apt protection of your equipment starts with a packaging solution adjusted to the requirements of your machines and mode of transport.
Fawic packaging solutions meet these requirements. The lightweight but extremely strong and robust transport boxes provide optimum protection during transport or storage of your valuable equipment
Synthetic cases
Strong, durable
lightweight
unbreakable HDPE
For sensitive equipment
Synthetic cases for vulnerable parts
The packaging and transport of vulnerable parts requires special care. Fawic provides strong, durable and lightweight cases made of virtually unbreakable HDPE. We provide solutions for highly sensitive equipment and help you to design a cost-effective packaging solution for your product.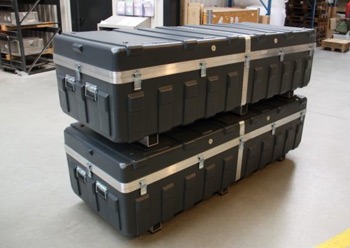 Thermodyne boxes are sturdy and made of HDPE and offer optimal protection under extreme conditions.
Thermodyne system boxes feature the same benefits of our standard boxes, but are stackable both vertically and horizontally.
Thermodyne Trolleys are special designed trolleys of Polyethylene (HDPE) with integrated telescopic handle and wheels.
Customized interior solutions
Customized interior solutions for special and safe transport of machines and components
Fawic also produces packaging solutions for deviating length dimensions.
Transport solutions for Machinery
At Fawic we manufacture transport solutions in any format for almost every imaginable application. We design each case inside out. Find out what we can do for you: please contact our experts for a free consultation.