Christoffel 3D
Applications
Protects sculptures and 3D art works
The Christoffel 3D protects sculptures and 3D art works against climatic and mechanical influences. We have taken the standard transportation size of 1200 mm into account, when we developed our box. FB20 locking system offers the best protection for all your transports and provides rapid construction and disassembly upon departure and arrival without the need for tools. To prevent damage in transit, the box has no protruding parts.
Pressure points and coupling sites
The encasement of the artwork with the 3D box is constructed in layers. Beginning with the placement of the bottom panel, four low walls are then placed with its interior fixation system. This system consists in height and length-adjustable arms provided with coupling joints. The sculpture can be placed on multiple arms to provide the greatest relieve of pressure points and evenly distribute the weight of the object. The arms are lined with a plastic shrink sleeve. Over which foam contour parts can be adjusted to relieve pressure points for an even distribution of weight. By placing the lid on the box, the sculpture is ready for transport. Using the Christopher 3D box packaging of artworks has never been simpler and faster.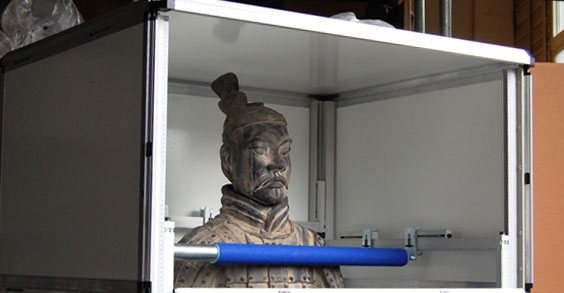 Secure art transport
Unauthorized opening of the Christoffel 3D is prevented by pin locks that bolt the locking system.
Christoffel series
The 3D is the third descendant in the Christoffel series. Like his brothers, I-II-III-IV and the XL this transport box offers protection during transport of art works for exhibitions, restoration or relocation. The Christoffel 3D transports three-dimensional works of art and sculptures, and fully meets high demands the art world imposes on transportation.

Fawic specializes in creating customized solutions for packaging of art during transportation or storage. Ask our experts about the possibilities.